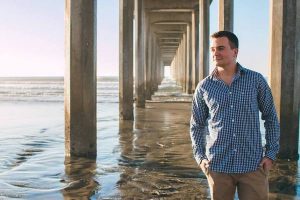 Joshua Fechter overcame 8 failed startups by reading over 120 books about marketing, business, psychology, and philosophy…all in ONE YEAR! The following nine months he published his writing in over 16 publications, wrote a best seller about Facebook marketing, and helped run several successful Kickstarter campaigns and facilitated hundreds of relationships as the President of San Diego Digital Marketing Experts. He is now managing growth at UpOut which is a subscription service for live events and he's the organizer of San Francisco Growth Marketers.
Time Stamped Notes
00:40 Kylon's intro
01:15 Joshua tell us a little more about himself
03:15 What is a Growth Expert? Don't limit yourself with a title
06:30 Creating systems so a company can scale
11:00 The power of marketing
12:30 Joshua's drop out story
15:00 Learning as you go
19:00 Didn't see the value in school
20:30 How friends and family reacted when Joshua dropped out
21:00 Even though blog start up failed, it provided many more opportunities
23:28 Joshua shares some fears he had and how he overcame them
25:30 Advice for people who's parents don't support them dropping out
27:20 Another startup
33:00 Joshua shares how he read 120 books in a year!
36:00 Started just walking into companies demanding an interview instead of sending in resume first.
41:00 Worst entrepreneurial moment
42:50 AH HA moment
46:00 What would older Joshua tell younger Joshua?
47:38 Just in time learning
48:34 Personal habit that contributes to Joshua's success
49:15 Quality Joshua has that he considers essential to being an entrepreneur
50:00 Business book Joshua would recommend
50:40 Internet resource Joshua would recommend (any Chrome extension that blocks out your Facebook news feed)
51:15 Next big goal
52:25 Advice for anyone who is thinking of dropping out
53:40 Advice for someone who has already dropped out
55:15 Best way people can connect with Joshua
4 Key Points
Developing systems is the key to scaling a company. Without systems, scaling can be very difficult.
Get valuable people on your team as soon as possible during a startup…even if it means giving up more equity.
If you want your parents support or just acceptance for you dropping out, become independent of them as fast as possible. When you don't rely on them for anything, they will be much more likely to be accepting of your decision.
Practice "just in time learning". Don't waste time learning things that you don't need to know. Work, take action, and when you come across something you need to learn more about or a skill you need to pick up, learn about it then.
Resources Mentioned
UpOut – Subscription service for live events
Trust Me I'm Lying by Ryan Holiday — New to Audible.com? Start your trial and get a FREE book here!
THANKS FOR LISTENING!
Thanks again for listening to the show! If it has helped you in any way, please share it using the social media buttons you see on the page.
Additionally, reviews for the podcast on iTunes are extremely helpful and greatly appreciated! They do matter in the rankings of the show and I read each and every one of them.
Join the Successful Dropout Nation!
Subscribe to the Successful Dropout Podcast.
Enter your email on the top right of this page for regular emails from Kylon Gienger on how to drop out, grind, and succeed.
Follow @kylongienger on Snapchat!