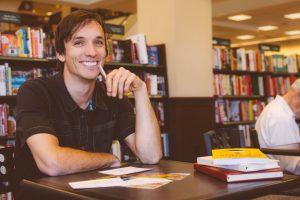 Kyle is the founder of Conversion Cake, a business that he started while still in school that specializes in content strategy and and sales funnels.  He is also the author of The College Entrepreneur, which is a book on how to leverage your university to build a business, escape the rat race and live life on your own terms. In the past he worked as a content manager for WP Curve and he helped them grow to nearly one billion in annual recurring revenue.
Resources Mentioned:
This episode is brought to you by Praxis
Go from student to start up in just 9 months. Click here to discover Praxis!
THANKS FOR LISTENING!
Thanks again for listening to the show! If it has helped you in any way, please share it using the social media buttons you see on the page.
Additionally, reviews for the podcast on iTunes are extremely helpful and greatly appreciated! They do matter in the rankings of the show and I read each and every one of them.
Join the Successful Dropout Nation!
Subscribe to the Successful Dropout Podcast.
Enter your email on the top right of this page for regular emails from Kylon Gienger on how to drop out, grind, and succeed.
Follow @kylongienger on Snapchat!