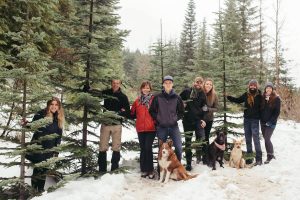 This week I'm incredibly excited to bring you an episode from Systems for Success. SFS is a podcast led by my dad, Lonnie Gienger, and once a month our entire family gets together for a "family roundtable discussion" episode and we teach on specific topics as a group. This week we discuss financial management and how to control money so it doesn't control you.
It's also exciting for me to have the SD community meet my entire family all in this one episode. They are all entrepreneurs, podcasters, teachers, influencers etc…just generally high achievers. We like so say "you may be born into the Gienger family, but you still have to become one". 🙂
On Money
Money is not important enough to let it control your life.  So why not learn how to control your money so you can gain more control of your life?
Money is like water.  It is a valuable resource necessary for life that can easily slip through your fingers.  The key is to not let it slip through your fingers without your permission.
In this round table discussion, we share some of the things we have done to build money management paradigms and processes into the fabric of our individual and family finances.  We reference The Gienger Good Stewardship plan which my parents developed to help debt proof our family and give my siblings and I a solid financial foundation as we grew up.
Gienger Good Stewardship Plan
As written by my parents for my siblings and I growing up, but as an adult I still generally follow applicable guidelines in here, and you can too.
Salary and Other Income
While on the plan, kids will receive a monthly "salary" that will become theirs to manage. The amount of salary will be determined by the parents.  Salaries will be subject to annual review by parents, or more often as deemed necessary.  Salary will be reviewed and may be increased on the first day of each new school year at parent's discretion according to the kid's real needs and demonstrated ability to be an effective and wise financial manager.  Note that additional money may be earned to supplement the base salary from income producing jobs…inside the home for specific pre-agreed extra tasks for extra money beyond normal "privileges" for being a part of this family.
Giving and Saving Requirements
Kids must give away at least 10 percent of the total salary and other income to charities and other things that leave a a positive impact on this world and beyond ourselves.  They must save or invest at least 10 percent of total salary and other income in a real bank or other parent-approved investment vehicle. The balance of the monthly salary will be used according to the kid's plan and in keeping with our family's values.  Note that kids can give additional money and/or save up more in short term savings for future larger purchases from additional earnings or under spending.
Financial Responsibility List
Kids will have a list of items and activities the parents will no longer pay for while the kid is receiving a monthly salary.  The list is subject to review and revision at any time by the parents.  Additional items will be added to the list on the first day of each new school year related to the increase in salary.
Home Privilege Responsibility List
Kids will continue to have a list of tasks they will be responsible to do as a privilege because they are part of the community of this family.  Citations with fines may be required if these tasks aren't done in the time or manner agreed.
Spending Plan and Record
Kids are asked to develop a plan for how much money they intend to spend in each category and keep a record of actual expenses by category.   The next month salary will only be given after the record of all spending from the prior month is shown to parents.
Once It's Gone, It's Gone
Kids will not borrow money from anyone including parents, not even for five minutes.  There will be no "advances" on ahead of pay day.  It they run out of money before the next payday, that's their choice, but there will be no more income until the next pay day.
Hands-Off
Parents will not criticize or interfere with the kid's management decisions as long as the child follows these guidelines and demonstrates their ability to live and manage their salary according to the family's values.
Graduation Date
Kids will graduate from the Gienger Good Steward Plan within two months after they are no longer full time students or when they move away from home, at which time their salary will cease.
RESOURCES/THINGS MENTIONED
Envelop Spending Record: If you'd like to use the cash envelop spending system that we reference, it is helpful to have an envelop for each budget category.  That envelop gets funded at the beginning of each month with the monthly amount of cash budgeted for that category.  All cash spent for items in that budget category comes out of that envelop and you write a something on the front that describes what it was spent for.  We just used standard legal size envelops, ran them through the desktop printer and then punched holes in them so they could be held vertically in a regular three ring binder.  If you want to create your own cash spending envelops, click the link to our word document which you can customize and print.
Spending Plans-Blank: At the end of each month you total up what you spent in each category as recorded on each envelop as you spent the money throughout the month.  Then you write the total amount of spending for each category on a summary spreadsheet that shows your budgeted amount for each category and the actual amount that you actually spent that month in each category.  At the beginning of each school year, we created a new list of expense items and monthly budget for those items that each child was responsible to pay for with their "salary" money.  And we also listed which expenses that mom and dad would continue to pay for. Click the link to the spreadsheet we used which you can go ahead and customize for yourself.
THANK YOU!
Thanks again for listening to the show! If it has helped you in any way, please share it using the social media buttons you see on the page.
Additionally, reviews for the podcast on iTunes are extremely helpful and greatly appreciated! They do matter in the rankings of the show and I read each and every one of them.
JOIN THE SUCCESSFUL DROPOUT COMMUNITY!