Messages

33
Likes

93
Points

18
Why Remote Learners Club?
Have you ever signed up for 10 Udemy courses and never finished them?
Have you ever decided to learn that new hot thing trending in the market but you never actually started?
Did you ever quit learning something just because it got hard or maybe there was no one looking over your shoulder and pushing you?
If yes, then
Remote Learners Club
is for you
.
As
self-directed learners
, we all are familiar with these struggles. The online education space has opened up a whole new world for the learners but it fails to do provide some crucial things which traditional system provides(although not in your best interest!). Like accountability! When learning online it's just you sitting in front of your computer with no one there to push you and motivate you when things get harder. But it doesn't have to be that way.
How can
Remote Learners Club
help you?
At
Remote Learners Club
, I aim to solve these problems by creating a community of
self-directed learners
who help each other succeed. You can create your own learning group as per your field or join an existing group and invite others to join you. The community chat is powered by Slack, which is full of essential features. The fun part is you can create to-learn tasks(to-do but for learning!) right from the chat and your tasks will be shared publicly with others, which is an efficient way to hold each other accountable and actually get that learning done. Keep learning and complete at least one to-learn task every day to earn your streak which will be displayed on the front page of the website making you a superstar learner.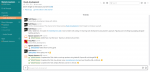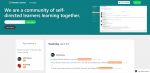 The alpha-version is out after 2 months of coding! Feel free to join and start using it. I would love your feedback, email me at
sahilvasava@gmail.com
or you can post it here in this thread.