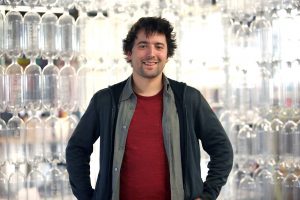 Tom Szaky is the Founder and CEO of TerraCycle, one of the world's leaders in eco-capitalism and the reuse of non-recyclable, pre and post-consumer waste. In 2002 he left Princeton University to spend all his time growing TerraCycle, which began as a two-man outfit out of his dorm room. Since then Tom and and TerraCycle have experienced great success. In 2010, TerraCycle was named the #288th fastest growing privately held company in America by Inc. Magazine and in 2016, Fortune magazine listed TerraCycle as one of "7 World-Changing Companies to Watch."…among many other awards, publications, and successes.
I didn't think I could ever get excited about garbage, but Tom's passion is contagious and his ingenuity is inspiring.
One of my favorite quote from Tom (slightly paraphrased):
"Entrepreneurship is a mountain of failure, and the outside – the crust of the mountain is the success, and the more you take risks and the more you inevitably fail, the more success you'll end up having. We usually only see the entrepreneur on the outside because that's what the magazines talk about, but we don't see all the failures that led to that point."
Resources:
THANK YOU!
Thanks again for listening to the show! If it has helped you in any way, please share it using the social media buttons you see on the page.
Additionally, reviews for the podcast on iTunes are extremely helpful and greatly appreciated! They do matter in the rankings of the show and I read each and every one of them.
Join the Successful Dropout Nation!
Subscribe to the Successful Dropout Podcast.
Enter your email on the top right of this page for regular emails from Kylon Gienger on how to drop out, grind, and succeed.
Follow @kylongienger on Instagram!