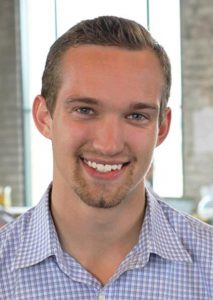 Jonathan Lacoste is the COO and co-founder of Jebbit, a digital marketing platform focused on post click engagement allowing marketers to create mobile interactive content. He was also the youngest person on the Forbes 30 under 30 2015 list. He has been a guest speaker at numerous events and conferences including Ad Week Europe and North America, Digi Day's Agency Summit, the NAB Digital Futures Summit, and 4A's Transformational Summit. In his spare time, Jonathan is also a frequent marathon runner.
Time Stamped Notes
00:35 Kylon's intro
01:18 Jonathan tells us a bit more about himself
02:02 What is Jebbit?
07:10 Jonathan's dropout story
10:00 How he got the idea for Jebbit
11:58 Generating revenue while still in school?
14:30 How did his friends and family react to him dropping out?
16:45 Advice on what to do with friends or family who don't support your decision to drop out
18:40 Biggest fear dropping out
20:20 What did the first several months look like after dropping out?
21:00 Don't lose your sense of ergency after you drop out!
22:50 How does Jebbit generate money right now?
24:05 Will Jebbit be acquired in the future?
25:50 Jonathan's worst entrepreneurial moment and what did he learn
29:10 AH HA moments
32:50 What would older Jonathan tell younger Jonathan?
36:00 Personal habit that contributes to Jonathan's success
37:32 Quality that Jonathan has that he considers essential to being an entrepreneur
38:56 Recommended book
40:15 Recommended internet resource
41:45 Advice for people thinking about dropping out
44:07 Advice for people who have already dropped out
46:10 Best way people can connect with Jonathan
4 Key Points
After you drop out, don't lose your sense of urgency because you all of a sudden have much more time on your hands. Keep things moving fast, make quick decisions.
Continue to be reflective on what is going right and what is going wrong. Keep doing the things that are going right, and change or adjust the things that are going wrong.
Don't be afraid to put yourself out there in situations with groups that you don't feel like you belong with. Just be a good listener and share your ideas because more than likely everyone is trying to answer the same questions you are.
If you're trying to start a company or trying to do something new. Instead of trying to pitch to investors and customers the product or the tool that you created. You have to pitch them WHY it matters. Get them to buy into the mission and the belief of the company. This applies to fund raising, hiring, getting customers etc.
Resources Mentioned
THANKS FOR LISTENING!
Thanks again for listening to the show! If it has helped you in any way, please share it using the social media buttons you see on the page.
Additionally, reviews for the podcast on iTunes are extremely helpful and greatly appreciated! They do matter in the rankings of the show and I read each and every one of them.
Join the Successful Dropout Nation!
Subscribe to the Successful Dropout Podcast.
Enter your email on the top right of this page for regular emails from Kylon Gienger on how to drop out, grind, and succeed.
Follow @kylongienger on Snapchat!