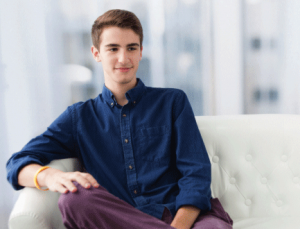 Micah dropped out of Cornell university to found Maidbot, a company on a mission to bring Rosie the Robot (kind of like The Jetsons TV show) to reality – starting with the world's first housekeeping robot for hotels. Maidbot is starting to attract some major customers such as The Marriott, and The Hilton…and just finished it's first round of funding.
I really enjoyed talking with Micah. He's young, but he's sprinting out of the gate. What struck me most about this episode was Micah's mentality and reason for starting Maidbot. He actually worked in the industry he wanted to build a business in (hospitality), and experienced the problems and challenges within the space first-hand. With this knowledge he started working on solutions to solve those problems…which eventually turned into Maidbot. At the end of the day, being an entrepreneur and building great businesses is about solving people's problems by building a great solution. You won't know what solution to build, if you don't understand the problem, and you won't understand the problem, if you don't immerse yourself in the market.
Micah's advice at the end of the episode is gold!
Resources
SharkPuncher – Micah's first app
If by Rudyard Kipling
Email Micah at micah@maidbot.co
THANK YOU!
Thanks again for listening to the show! If it has helped you in any way, please share it using the social media buttons you see on the page.
Additionally, reviews for the podcast on iTunes are extremely helpful and greatly appreciated! They do matter in the rankings of the show and I read each and every one of them.
Join the Successful Dropout Nation!
Subscribe to the Successful Dropout Podcast.
Enter your email on the top right of this page for regular emails from Kylon Gienger on how to drop out, grind, and succeed.
Follow @kylongienger on Instagram!