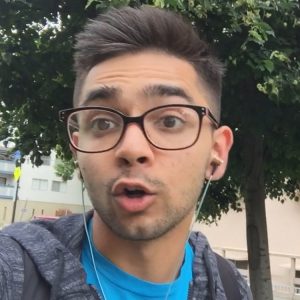 Keshav is a 20-year old drop out from San Jose State University and is the CEO & founder of an educational non-profit startup called Home room, a platform that works on transforming the communication aspect within the educational system. As an immigrant who came on the basis of education, Keshav grew frustrated with the educational system during college and wrote many articles on education, that reached hundreds and thousands of students who felt the same way, but didn't have the courage to speak up!
Keshav was inspiring to chat with. Immigrating to the United States, learning the language and culture without using TV or internet, dropping out of school to build a couple apps and a kickass company and still having time to write papers on the meaning of life…FOR FUN? I mean common, Keshav is my hero. Definitely check out his personal website, his app and his new company. Not only does he have a knack for design and building things…he is legitimately in the process of changing our educational system. Ladies and Gentlemen – I present to you yet another amazing Successful Dropout. You know what this means? If Keshav can do it, YOU CAN TOO.
Now get off the conveyor belt and start taking your life and education into your own hands.
Resources
THANK YOU!
Thanks again for listening to the show! If it has helped you in any way, please share it using the social media buttons you see on the page.
Additionally, reviews for the podcast on iTunes are extremely helpful and greatly appreciated! They do matter in the rankings of the show and I read each and every one of them.
Join the Successful Dropout Nation!
Subscribe to the Successful Dropout Podcast.
Enter your email on the top right of this page for regular emails from Kylon Gienger on how to drop out, grind, and succeed.
Follow @kylongienger on Instagram!