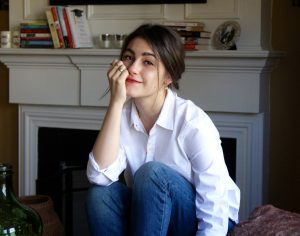 Rainesford Stauffer is a 23-year-old writer who has been published by Forbes, USA TODAY, and The Hill, among others. After a diverse high school education, she dropped out of college her freshman year and spent two years shaping her own education through internships, writing, and communications. She's given two TEDx Talks and serves on the Advisory Board of (south by south west EDU) SXSWedu. For her day job, she works in communications, and is the editor of Gap Year Stories, a platform that publishes student perspectives on shaping your own learning experiences.
Rainesford and I have a lot in common with our mindset around education and entrepreneurship…she also owns a hot yoga studio, which is one of the businesses I own as well. In this episode we talk a lot about uncertainty, not knowing the answer, anxiety, and how messy and unclear times are actually the key to finding your way, learning, and ultimately success.
There are so many quotable snippets in this episode, Rainesford is the real deal – a go-getter, a self-teacher and an entrepreneur. She's the epitome of a Successful Dropout.
"Usually when you are shaping your own path, it's a combination of belief in something that matters to you, incredible amounts of effort, and just the right amount of risk."
"Sometimes the greatest opportunities, moments and endeavors in your life are really messy. They aren't cookie-cutter, they aren't picture perfect and to me I think that's the magic of it."
Resources:
THANK YOU!
Thanks again for listening to the show! If it has helped you in any way, please share it using the social media buttons you see on the page.
Additionally, reviews for the podcast on iTunes are extremely helpful and greatly appreciated! They do matter in the rankings of the show and I read each and every one of them.
Join the Successful Dropout Nation!
Subscribe to the Successful Dropout Podcast.
Enter your email on the top right of this page for regular emails from Kylon Gienger on how to drop out, grind, and succeed.
Follow @kylongienger on Snapchat!