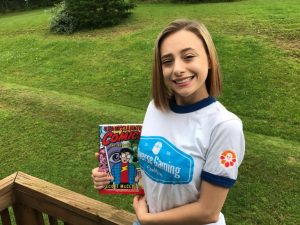 Abbey who is currently 18, founded the Diverse Gaming Coalition after being heavily bullied in high-school, causing her to drop out among other reasons. Diverse Gaming Coalition focuses on ending bullying and harassment while modernizing the culture we use to educate about harassment. She cares about various social issues, while volunteering for organizations such as Born This Way Foundation, Peace First, and more. She is a current Sophomore at Southern New Hampshire University studying Non-profit management.
I had a great time chatting with Abbey. Just in the hour I talked with her I can tell she has a huge heart and an incredible drive to help people…so much so that she dropped out of high school to start her non-profit despite the criticism from family and friends. In this episode we explore the pros and cons of earning a degree, the issues and solutions surrounding bullying and harassment, marriage, gaming, mail (yes mail) and much more!
Quote of the day: ""If you fear to be criticized, say nothing, do nothing, be nothing."
Resources
THANK YOU!
Thanks again for listening to the show! If it has helped you in any way, please share it using the social media buttons you see on the page.
Additionally, reviews for the podcast on iTunes are extremely helpful and greatly appreciated! They do matter in the rankings of the show and I read each and every one of them.
Join the Successful Dropout Nation!
Subscribe to the Successful Dropout Podcast.
Enter your email on the top right of this page for regular emails from Kylon Gienger on how to drop out, grind, and succeed.
Follow @kylongienger on Instagram!