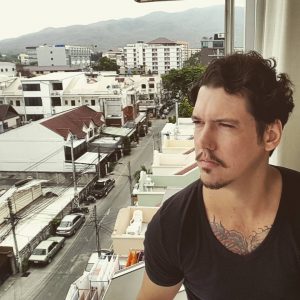 William McCanless is a high-school dropout with no college education that accidentally became a high-converting direct response copywriter and online marketer after being fired from every normal job he's ever had. Currently living in Thailand, traveling the world, and trying not to drink too much with doe-eyed Swedish backpacker girls, William is currently making the transition from reference-only copywriter, only known in small high-paying circles, to product creator and teacher. In the next month, he'll be debuting a brand new high-end course called The Dark Art of Copywriting: Embracing The Power of Persuasion in which he'll teach the driving psychology behind what makes copywriting work and how to use this power for your business, personal life, and social interactions.
Time Stamped Notes
02:40 Intro
08:37 William's dropout story
14:00 He was very clear at a young age about what he wanted and what he didn't want
17:00 What is it like being a digital nomad in Thailand?
22:15 Shroom shakes 😉
23:45 How William's friends and family reacted when he dropped out of high school
26:39 Any fears dropping out?
29:00 Advice for if friends and family don't support you
29:50 Consistency is the key to success
36:00 Another business William has and why he likes to stay off the grid
39:20 How William generates revenue (35k/month!)
44:50

William gives a step by step outline of how to be a successful freelancer

52:00 Worst moments and Ah Ha moments and what William learned
01:01:50 What would older William tell younger William?
01:04:00 Personal habit that contributes to William's success
01:07:00 A quality that is essential to being an entrepreneur
01:09:30 Recommended book – New to Audible? Get your first book FREE here!
01:14:21 Advice for you if you are thinking of dropping out (SO GOOD!)
01:19:46 Advice for you if you have already dropped out
01:23:00 Best way you can connect to William
3 Key Points
Consistency is the key to all success. Consistency pays off.
Know what you are good at and what you are bad at. Build on your strengths.
Stop complaining and making excuses. Take "but" out of your vocabulary.
Resources Mentioned
This episode is brought to you by Praxis
Go from student to start up in just 9 months. Click here to discover Praxis!
THANKS FOR LISTENING!
Thanks again for listening to the show! If it has helped you in any way, please share it using the social media buttons you see on the page.
Additionally, reviews for the podcast on iTunes are extremely helpful and greatly appreciated! They do matter in the rankings of the show and I read each and every one of them.
Join the Successful Dropout Nation!
Subscribe to the Successful Dropout Podcast.
Enter your email on the top right of this page for regular emails from Kylon Gienger on how to drop out, grind, and succeed.
Follow @kylongienger on Snapchat!