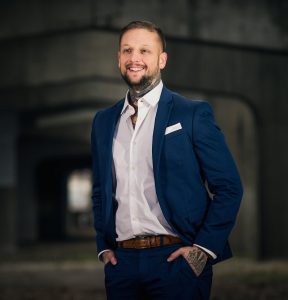 Zachary Babcock is the author of Prison To Promised Land, a book he wrote on his 5 year experience in prison about how anyone can find happiness and fulfillment in life, even after the loss of loved ones, drug addiction, and spending years in prison. Zachary is now an inspiring transformational speaker and life coach. He inspires lasting change in countless lives through his unique story of overcoming adversity and the lessons that he learned through his experience. Zachary also owns and runs his Facebook advertising agency to help entrepreneurs, online business owners, and small business owners market their message to sell their products and services.
Zachary has an incredible story of achievement and success in the face of extreme adversity and struggle. It was an honor to have him on the show. Here are some of the things Zachary and I talked about:
No matter how good of a person you are you can't be liked by everybody.
Sent to prison at 19 years old and thought his life was screwed
Sister passed away due to overdose
Fired from job and sent back to prison days before twin sons are born – life changing moment
Got into network marketing – created $2000/month income
Decided to write a book
Happiness isn't something that is passively bestowed. It's and action. Happiness comes from of solving meaningful problems. Happiness requires struggle. (from The Subtle Art of Not Giving A Fuck)
What do you want people to say at your funeral? What kind of legacy do you want to leave behind?
Forget about asking yourself what kind of pleasure you want out of life, instead, ask yourself what kind of struggle do you want out of life.
Get clear on what you want to do with your life before you start racking up student loans
Some practical ways to find your meaning, purpose, and direction
Fear setting
Resources
THANK YOU!
Thanks again for listening to the show! If it has helped you in any way, please share it using the social media buttons you see on the page.
Additionally, reviews for the podcast on iTunes are extremely helpful and greatly appreciated! They do matter in the rankings of the show and I read each and every one of them.
Join the Successful Dropout Nation!
Subscribe to the Successful Dropout Podcast.
Enter your email on the top right of this page for regular emails from Kylon Gienger on how to drop out, grind, and succeed.
Follow @kylongienger on Instagram!