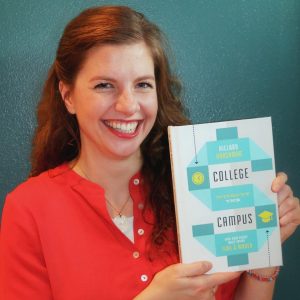 Hillary is a writer from Walla Walla, WA who loves saving money. After earning her bachelor's degree for under $10,000 from Thomas Edison State University, she decided to share the resources cultivated and researched during her degree journey by writing College Without the Campus, a guide to credit-by-exam learning for students of all ages. Currently, she enjoys running a jewelry and supplies shop on Etsy and working for her family's heating and cooling business.
This was a special episode for the podcast because we haven't had a guest on the show yet who advocates for earning your college degree, but in the most efficient way as far as time and money goes. College is right for some, and not right for others, and the fact is ANYONE can succeed in business and in life without a college degree…BUT…if you want to earn your degree there is most certainly a better way to do it than just following the standard pipeline. Hillary shows you how with her book, College Without The Campus.
If you have any questions whatsoever about how to maximize your time and money earning your degree, connect with Hillary, she would love to chat with you!
Resources:
THANK YOU!
Thanks again for listening to the show! If it has helped you in any way, please share it using the social media buttons you see on the page.
Additionally, reviews for the podcast on iTunes are extremely helpful and greatly appreciated! They do matter in the rankings of the show and I read each and every one of them.
Join the Successful Dropout Nation!
Subscribe to the Successful Dropout Podcast.
Enter your email on the top right of this page for regular emails from Kylon Gienger on how to drop out, grind, and succeed.
Follow @kylongienger on Snapchat!