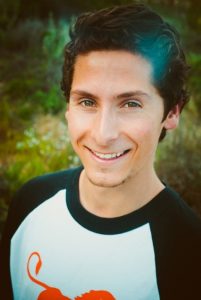 Jake is the author of the book Off The Beaten Trail which comes out September 28th, 2016. It's an inspiring memoir about his journey dropping out of college and backpacking through Central America. He's a a social media strategist and blogger at Launchbox 365 which is an organization dedicated to bridging the gap between millennial and managers in the work place. He has an incredible story to share and he is definitely a world changer!
Time Stamped Notes
02:40 Intro
05:02 Why Jake decided to dropout and backpack Central America
09:50 The 2 questions that changed Jake's life
14:45 Crazy story from Jake's travels (chicken bus plus hitchhiking)
19:20 How Jake's friends and family reacted to his decision
21:30 Advice for how to get your friends and family to support you dropping out
23:50 Jake's vision for himself as an author
24:50 Launchbox 365
28:44 Jake's worst entrepreneurial moment
30:00 Jake's book funded with Kickstarter
31:09 Jake's AH HA moment
32:23 How Jake generates revenue right now
33:00 What would older Jake tell younger Jake
34:40 Personal habit that contributes to Jake's success
36:20 Essential quality for an entrepreneur
37:30 Book recommendation – New to Audible.com? Get your first book FREE here!
38:33 Jake's "why". What success means to him
40:30 Advice for people who are thinking of dropping out
41:20 Advice for people who have already dropped out
41:44 Best way to connect with Jake
4 Key Points
Immerse yourself in the vision of the life you would be most proud to live.
We must have the courage to follow our intuition because it is in the pursuit of our dreams and passions where we find happiness.
Learn to be comfortable with being uncomfortable.
Take action! The first step is the hardest, but as soon as you take it, it get's easier and easier and everything starts to fall into place.
Resources Mentioned
This episode is brought to you by Praxis
Go from student to start up in just 9 months. Click here to discover Praxis!
THANKS FOR LISTENING!
Thanks again for listening to the show! If it has helped you in any way, please share it using the social media buttons you see on the page.
Additionally, reviews for the podcast on iTunes are extremely helpful and greatly appreciated! They do matter in the rankings of the show and I read each and every one of them.
Join the Successful Dropout Nation!
Subscribe to the Successful Dropout Podcast.
Enter your email on the top right of this page for regular emails from Kylon Gienger on how to drop out, grind, and succeed.
Follow @kylongienger on Snapchat!