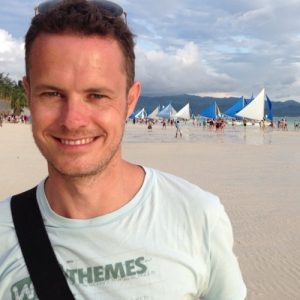 Troy is an online marketing speaker, coach, consultant, and podcaster. He specializes in helping businesses and entrepreneurs use the internet to attract new customers and build their communities. Some notable things he's accomplished: he managed the marketing strategy for Jessica Watson, the 16 year old Australian girl who sailed around the world, he helped FebFast (an Australian based health challenge program) raise over one million dollars in 2011 and 2012, and he is also a professional voice over artist, and he has voiced campaigns for hundreds of brands including Ford, Telstra Hungry Jacks, Mitsubishi, and more. His current project is called Rockstar Empires, which is a course on how to create your own course and sell it online.
This episode is brought to you by Praxis
Go from student to start up in just 9 months. Click here to discover Praxis!
THANKS FOR LISTENING!
Thanks again for listening to the show! If it has helped you in any way, please share it using the social media buttons you see on the page.
Additionally, reviews for the podcast on iTunes are extremely helpful and greatly appreciated! They do matter in the rankings of the show and I read each and every one of them.
Join the Successful Dropout Nation!
Subscribe to the Successful Dropout Podcast.
Enter your email on the top right of this page for regular emails from Kylon Gienger on how to drop out, grind, and succeed.
Follow @kylongienger on Snapchat!