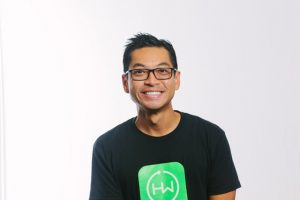 Chau has been an entrepreneur for 10 years. In 2005 he co founded Campus Special which was recognized by Inc. Magazine as one of the fastest growing private companies in the US for four consecutive years. In 2014 Campus Special was acquired by a public company and Chau moved on to start his current venture, HireWire which is the first on-demand hiring marketplace connecting hourly job seekers to potential employers. HireWire has also raised 3.8 million dollars in funding to date to tackle on demand hiring.
Time Stamped Notes
02:40 Intro
03:48 Chau tells us a bit more about himself
04:40 Chau tell us his dropout story and why he made that decision
06:45 How did your friends and family react to your decision?
08:15 How did you develop your entrepreneurial drive?
10:11 How essential is it to learn how to sell as an entrepreneur?
11:31 Advice for anyone to get their parents to support their decision opting out of college
12:40 Chau's biggest fear dropping out of college
14:14 What Chau did the first several months after he dropped out (awesome story!)
15:50 The start of Chau's first company, Campus Special
18:00 Overview of Campus Special and what they did
19:50 How do you come up with a good business idea and how to you decided whether or not you should put time and money into it? (GOLD!)
23:55 Minimum viable product
26:00 About HireWire
29:10 HireWire high level numbers
30:48 Worst entrepreneurial moment
34:11 AH HA moment
36:20 What would older Chau tell younger Chau?
37:24 Personal habit that contributes to Chau's success
38:47 Quality essential to being an entrepreneur
40:36 Recommended blog
41:37 Advice for anyone who is thinking of dropping out
43:08 Advice for anyone who has already dropped out
44:00 Best way to connect with Chau
5 Key Points
If you are an entrepreneur, you need to learn how sell. You will use this skill throughout your career.
You should expect whatever is it you are doing to be extremely difficult, harder than you think it's gonna be, and it will take everything out of you because if it was easy everyone would be doing it and everyone would be successful.
If you just reverse engineer what people want, your odds of building a successful company go up.
Good things happen if you don't quit.
Start networking and developing relationships as early as possible with people that are older, smarter, wiser, and more experienced than you.
Resources Mentioned
This episode is brought to you by Praxis
Go from student to start up in just 9 months. Click here to discover Praxis!
THANKS FOR LISTENING!
Thanks again for listening to the show! If it has helped you in any way, please share it using the social media buttons you see on the page.
Additionally, reviews for the podcast on iTunes are extremely helpful and greatly appreciated! They do matter in the rankings of the show and I read each and every one of them.
Join the Successful Dropout Nation!
Subscribe to the Successful Dropout Podcast.
Enter your email on the top right of this page for regular emails from Kylon Gienger on how to drop out, grind, and succeed.
Follow @kylongienger on Snapchat!