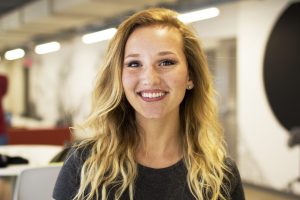 At 17, Diana was the youngest to be accepted into Praxis, a program for entrepreneurial thinkers with an acceptance rate of about 10%. Within two months after starting, she was hired at MailLift, a handwritten letter service. Within her first month of training at MailLift, Diana took on managing $100k in accounts. The Quarter that Diana joined the team was MailLift's most profitable quarter ever and Diana led with top sales numbers and now she is managing sales full time for Mail Lift.
When she's not helping grow a startup, you can find Diana longboarding with friends, walking her two dogs, sitting in a coffee shop behind her laptop, watching The Office or Parks and Recreation, and traveling and adventuring 
Time Stamped Notes
02:40 Intro
03:30 Diana tells us a bit more about herself
04:50 Diana's dropout story and how she discovered Praxis
07:50 How Diana convinced her parents to support her opting out of college
08:40 Advice for how to convince your parents to support you dropping out
12:00 Why did Diana think college was a waste of time and money at 16 years old?
12:55 The fears Diana had when she dropped out
14:00 In depth into the Praxis program and how it works
21:00 Worst entrepreneurial moment
22:01 AH HA moment
26:00 What would current Diana tell past Diana?
29:00 When Diana is hiring for her company she doesn't pay attention to whether or not the applicant has a degree
31:00 Personal habit that contributes to Diana's success
35:00 Quality that Diana has that she considers essential to being an entrepreneur
35:36 Recommended book
36:28 Recommended internet resource
37:09 Advice for people who are thinking of dropping out
38:38 Advice for people who have already dropped out
39:22 Best way for people to connect with Diana
4 Key Points
One of the best things you can do is get experience with a fast paced startup.
You can go to college any time you want in life…it doesn't just have to be right after you graduate high school. You should be able to explore what you want to be, do, and have before you make a decision to go to college or not.
Make sure when you drop out that you have an action plan first. An idea is not enough, you have to have clear goals and tasks set.
Start a personal blog and website as soon as possible. Start creating things and advertising your accomplishments.
Resources Mentioned
This episode is brought to you by Praxis
Go from student to start up in just 9 months. Click here to discover Praxis!
THANKS FOR LISTENING!
Thanks again for listening to the show! If it has helped you in any way, please share it using the social media buttons you see on the page.
Additionally, reviews for the podcast on iTunes are extremely helpful and greatly appreciated! They do matter in the rankings of the show and I read each and every one of them.
Join the Successful Dropout Nation!
Subscribe to the Successful Dropout Podcast.
Enter your email on the top right of this page for regular emails from Kylon Gienger on how to drop out, grind, and succeed.
Follow @kylongienger on Snapchat!