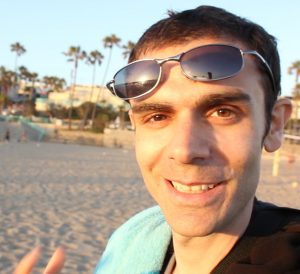 Seth Hymes is the Founder and CEO of In Demand Career Training.  In Demand Career Training teaches future entrepreneurs how to get a job in the rapidly growing field of digital marketing. A graduate of NYU's film school, Seth found digital marketing in 2014 after successfully doing marketing for another company….not long after that he quit his job and began working for clients independently.  Since then, he has created the Digital Marketing Career Blueprint, which teaches students the in-demand skills in digital marketing from the ground-up, as well as how to put together resumes, talk to hiring managers, and get the job you want.  Seth has not only found great success with In Demand Career Training, but has also helped literally hundreds of students get interviews and jobs or become entrepreneurs themselves.
This entire interview was gold…but my favorite part is the wisdom Seth shares towards the end of the episode. Seth is extremely passionate about helping his students learn the ins and outs of digital marketing, and he's producing incredible results with most of his students getting great entry jobs without a college degree in under a year! There are a lot of scammers and posers out there…Seth isn't one of them. He is as authentic as they come.
Resources
In Demand Career – check out Seth's website to start learning about digital marketing!
THANK YOU!
Thanks again for listening to the show! If it has helped you in any way, please share it using the social media buttons you see on the page.
Additionally, reviews for the podcast on iTunes are extremely helpful and greatly appreciated! They do matter in the rankings of the show and I read each and every one of them.
Join the Successful Dropout Nation!
Subscribe to the Successful Dropout Podcast.
Enter your email on the top right of this page for regular emails from Kylon Gienger on how to drop out, grind, and succeed.
Follow @kylongienger on Instagram!